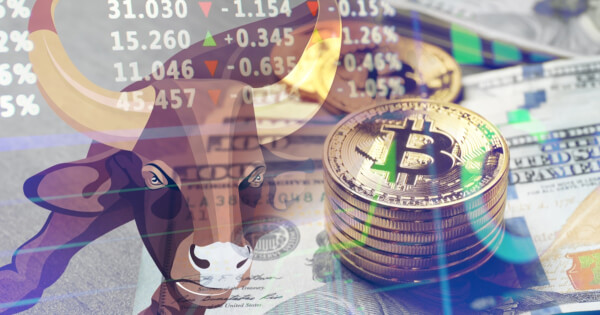 Bitcoin is Showing Great Resilience Considering the Surging 10-Year Treasury Yield
Bitcoin (BTC) continues making headlines based on the current bull run, which has made the leading cryptocurrency attain remarkable milestones not seen in its twelve-year journey. For instance, it recently hit an all-time high (ATH) price of $61,700 even though it has retraced to $59,050 at the time of writing, according to CoinMarketCap.
Crypto analyst Joseph Young has disclosed that BTC is showing considerable resilience despite unfriendly market forces. He explained:
"Bitcoin again is performing better than it should be. Considering the surging 10-year Treasury yield and risk-on market taking a hit, BTC is being very resilient."
These sentiments are echoed by Moskovski Capital CEO Lex Moskovski, who disclosed that BTC is holding up remarkably well amidst the US tech sell-off.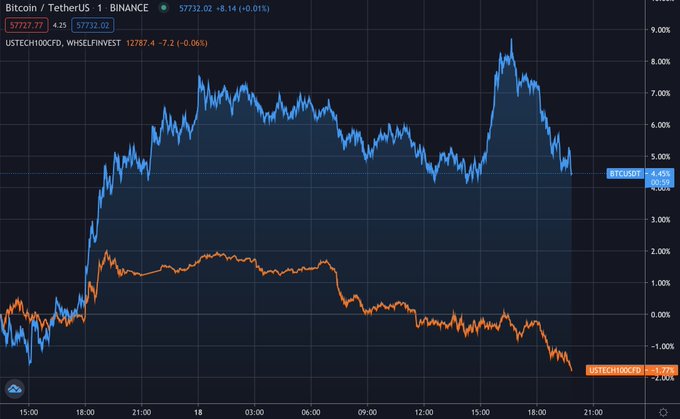 Furthermore, Bitcoin has been persistent in its price even though the US yields are hitting the highest levels since 2015, as evidenced by Holger Zschaepitz. The market analyst acknowledged:
"The US yield curve keeps steepening. US 2s/10s yield spread jumps to 157bps, the highest level since 2015."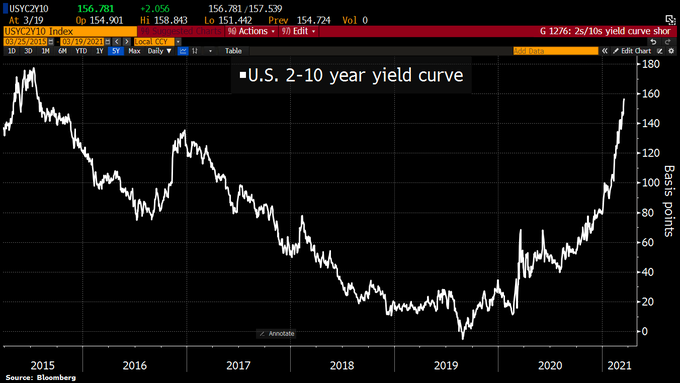 Bitcoin is now worth more than a kilo of gold bar
According to market insight provider Documenting Bitcoin, the current price of more than $59k makes BTC more valuable than one kilogram of gold bar.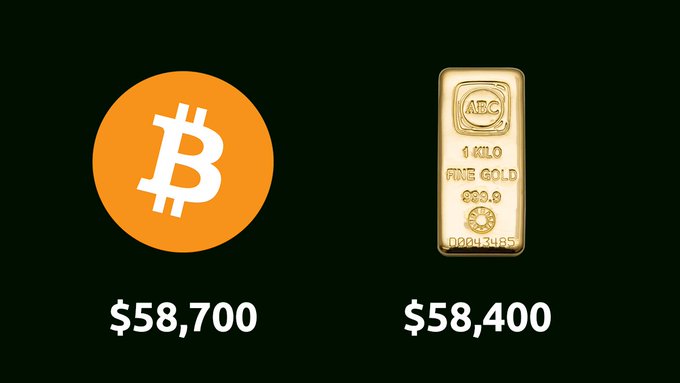 This milestone has been attained thanks to strong hands who have been buying every dip, driving BTC price steeply upwards since Q4 2020. Strong hands are investors who buy Bitcoin for holding purposes other than speculation. 
Bitcoin's implied volume continues grinding lower
Skew has disclosed that BTC's implied volume is showing a steep decline. The data analytics firm stated:
"BTC implied vol continuing its grind lower, notably in the short end of the curve."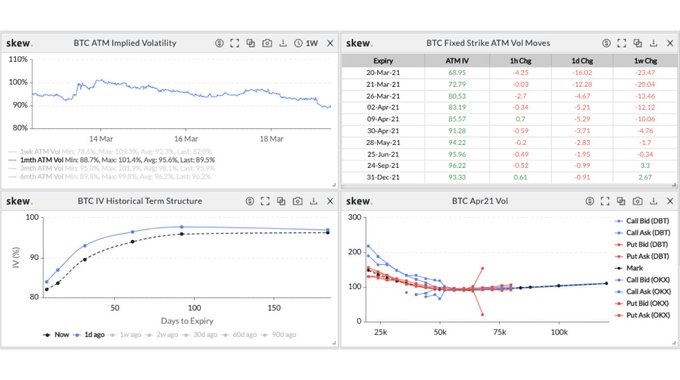 Implied volatility is the market's expectation or future prices. With decreasing implied volatility, the premium to purchase options will get cheaper. Moreover, lower implied volatility is considered bullish in that lower volatility is correlated with projected higher prices.
Recently, Deutsche Bank analyst and Harvard economist Marion Laboure pointed out that the next two to three years should be a turning point for Bitcoin. 
She elaborated that both Tesla and Bitcoin have followed a similar trajectory over the past year. In reference to Tesla, she said that market sentiment towards the electric car manufacturing company shifted significantly in the last 18 months, "as Tesla delivered early results."
Image source: Shutterstock
https://image.blockchain.news:443/features/EADBAA3A1611CC10514AB4602055002D1794F5718C999151531D499F34969971.jpg
0
1920
saujan
https://www.fifthwave.news/wp-content/uploads/2021/01/Logo.png
saujan
2021-03-21 02:32:34
2021-03-21 02:32:34
Bitcoin is Showing Great Resilience Considering the Surging 10-Year Treasury Yield