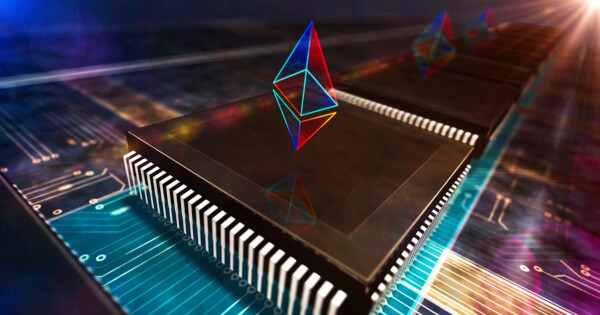 Crypto Addresses Holding At Least 100 Ethereum Hit 19-Month Low as 8.2% of Circulating ETH Locked in DeFi
Ethereum has been bearish since it surged past the psychological mark of $2,000.
The second-largest cryptocurrency based on market capitalization has been down by 6% from the past week to trade at $1,682 at press time, according to CoinMarketCap.
New data by on-chain data provider Glassnode reveals that the number of crypto addresses holding more than 100 ETH has hit a 19-month low of 45,518. These addresses are from centralized exchanges, as alluded to by digital asset firm Bloqport.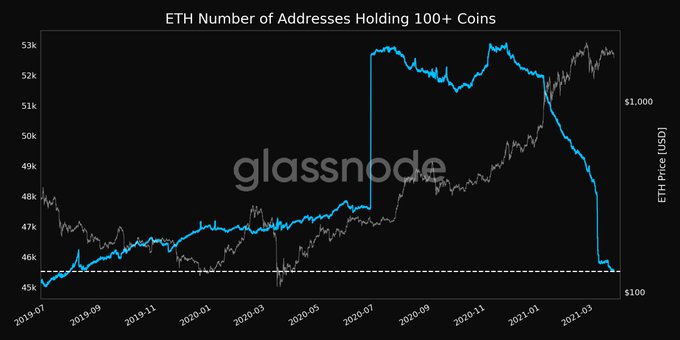 It, therefore, shows a holding culture because more ETH is being stored in cold storage or being locked in ecosystems like decentralized finance (DeFi).
Bloqport acknowledged:
"According to DefiPulse, 9.2 million Ether—around 8.2% of the circulating ETH supply—is now locked in the DeFi ecosystem."
The boom in the non-fungible token (NFT) and DeFi sectors have boosted Ethereum's bull run, but this has been derailed by high gas fees, which recently hit an all-time high – with an average transaction fee of over $30. This proved detrimental because it made the DeFi sector almost entirely impractical to use for the majority of retail traders.
ETH deposits in ETH 2.0 break the record
Ever since Ethereum 2.0 was launched in December 2020, it continues gaining momentum because it is seen as the silver lining needed to eradicate the stalemate being experienced in the current proof of work consensus mechanism. 
As outlined by on-chain data analytics provider Glassnode, the "total value in the ETH 2.0 Deposit Contract recently reached an ATH of 3,559,106 ETH."
Investors are betting big on Ethereum 2.0 because it is touted as a game-changer when solving issues like the high gas fees experienced in the ETH network, which have proven detrimental. For instance, users are seeking cheaper alternatives, and this has been one of the reasons why Ethereumès price has been nosediving.
Image source: Shutterstock
https://image.blockchain.news:443/features/D29CE0E543D018C720F10FFB08CF56A85333789B9724901FE1CB41B1F206D3BD.jpg
0
1920
saujan
https://www.fifthwave.news/wp-content/uploads/2021/01/Logo.png
saujan
2021-03-23 08:56:56
2021-03-23 08:56:56
Crypto Addresses Holding At Least 100 Ethereum Hit 19-Month Low as 8.2% of Circulating ETH Locked in DeFi