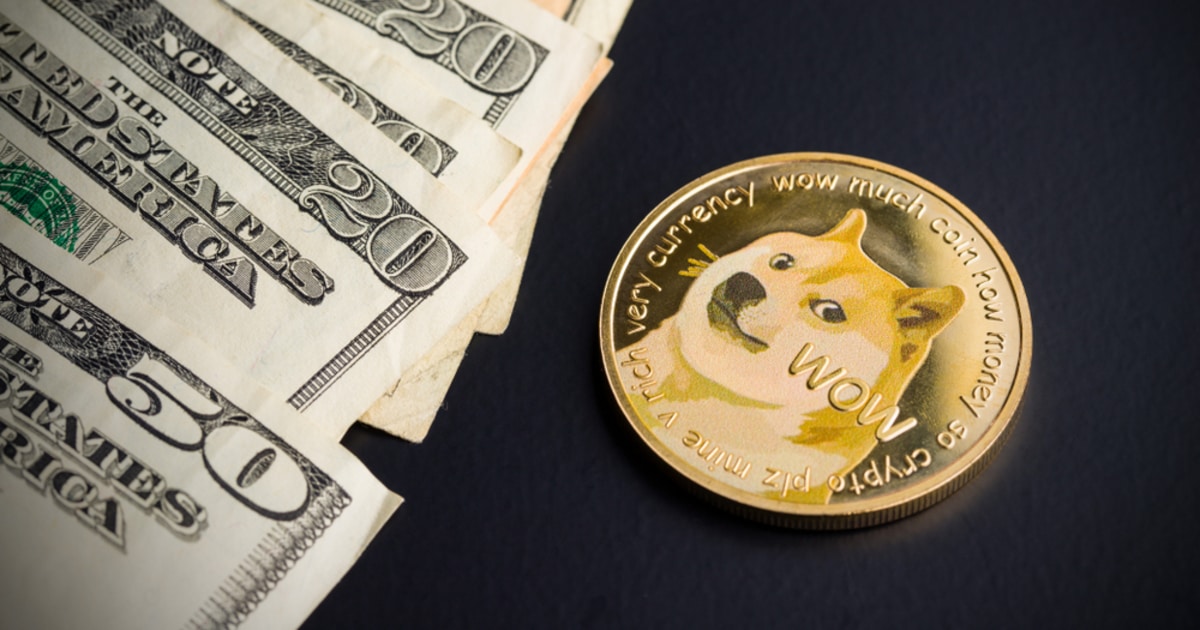 'Dogecoin Army' Targets $0.69 to Commemorate 4/20 Doge Day
From the beginning of 2021 to now, Dogecoin went from an altcoin worth only $0.007 to hit a price of $0.41 today. Currently, Dogecoin is trending on social platforms and investor sentiment regarding the meme-based cryptocurrency is bullish. It seems that even the bear market cannot stop Dogecoin from aiming for the moon.
Despite the downturn suffered by the entire cryptocurrency market, Dogecoin has been strong and has not been dragged down by Bitcoin and other cryptocurrencies' movements.
According to Coinmarketcap, the "joke" cryptocurrency, which was created in 2013, has risen by 446.68% within one week. Dogecoin even briefly replaced XRP as the fourth-largest coin early Monday.
DOGE/USD has risen by more than 9000% so far this year, and the high yield has attracted the attention of many investors. The strong gains also made Dogecoin's market value jump above well-known financial institutions such as ING, Barclays, and Credit Agricole.
At the same time,  "Dogecoin Day" is known as April 20, a date that also represents a cannabis-themed holiday. Fans of the cryptocurrency Dogecoin are planning to push its price to new heights on Tuesday.
The '#DogeDay420' advertising campaign caused a new hot wave on Twitter and Reddit, as cryptocurrency and Dogecoin fanatics wanted to increase the price of Dogecoin to a record-high of $0.69.
All eyes are on "Dogecoin Day." Tesla CEO endorsed dogecoin and tweeted that Dogecoin will howl on the moon, stimulating the price increase.

Data from Google Trends also shows that the search popularity of blue "Doge" in recent days has exceeded the popularity of Bitcoin.
Dogecoin (DOGE) Price Analysis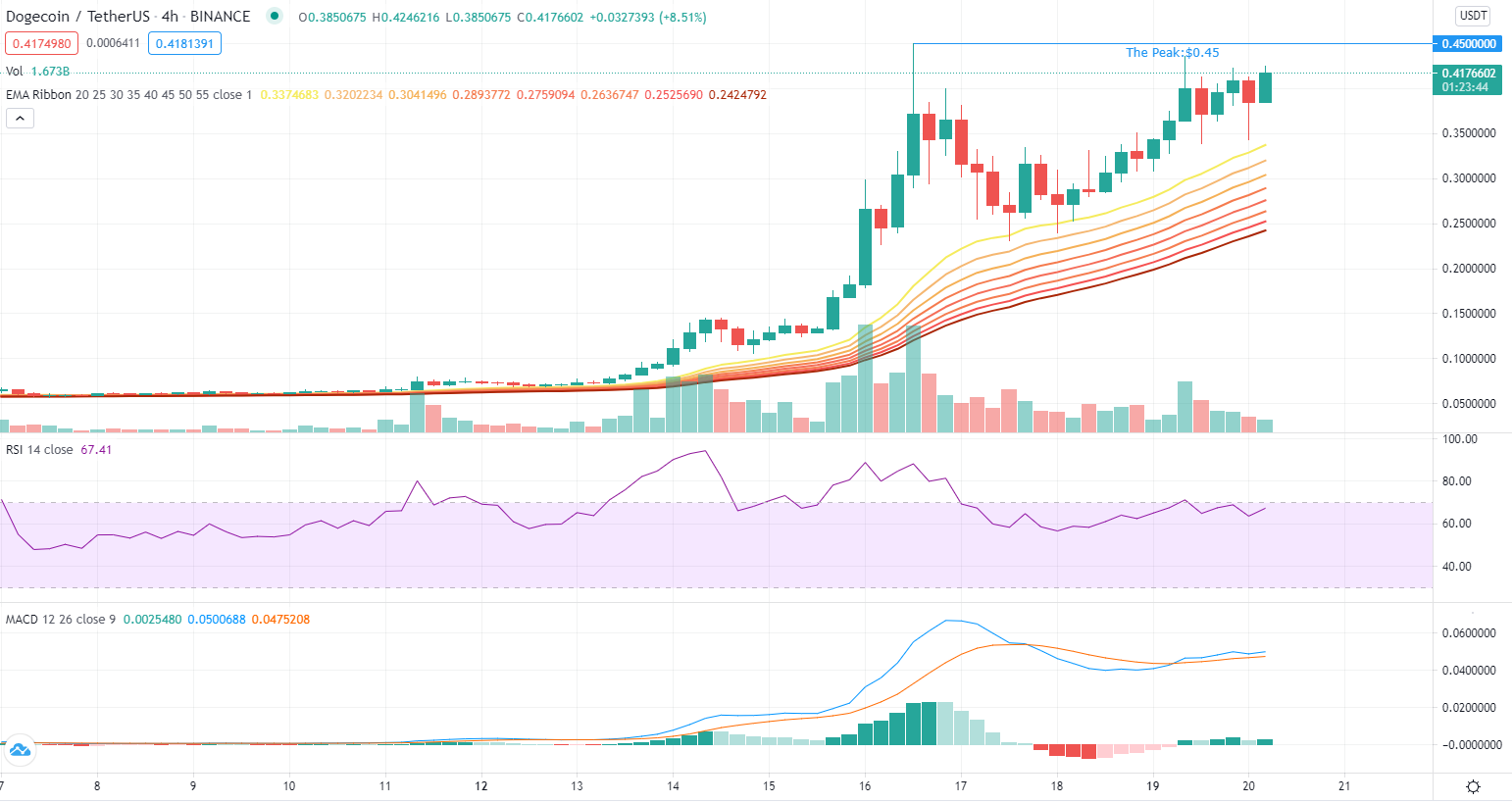 Source: DOGE/USDT 4-Hour via TradingView
Dogecoin's current trading price is only a few cents below its all-time high of $0.45 on April 16. At the time of writing, Dogecoin is trading at $0.41.
The transaction price of DOGE/USDT is much higher than the Exponential Moving Average ribbon. Both the upward sloping moving average and the bullish MACD index indicate that the bulls are currently dominating the market.
The Relative Strength Index slopes upwards, which suggests that there is a high chance that DOGE will break through its all-time high (ATH) of $0.45 soon. A successful breakthrough may open a faster upward channel for Doge when the cryptocurrency hits a new high – this will indicate that the altcoin will not encounter strong selling pressure on its way up.
Conversely, if a large number of selling orders are triggered once DOGE's price touches its ATH, then DOGE will likely experience a price retracement. The 20 day-Exponential Moving Average of $0.19 is a critical support level to look out for.
Image source: Shutterstock
https://image.blockchain.news:443/features/416A4C3DD77A15C1197FDCFAE2914008D358F94B9EA8C03370A70B138F90B420.jpg
0
1920
saujan
https://www.fifthwave.news/wp-content/uploads/2021/01/Logo.png
saujan
2021-04-20 07:45:00
2021-04-20 07:45:00
'Dogecoin Army' Targets $0.69 to Commemorate 4/20 Doge Day