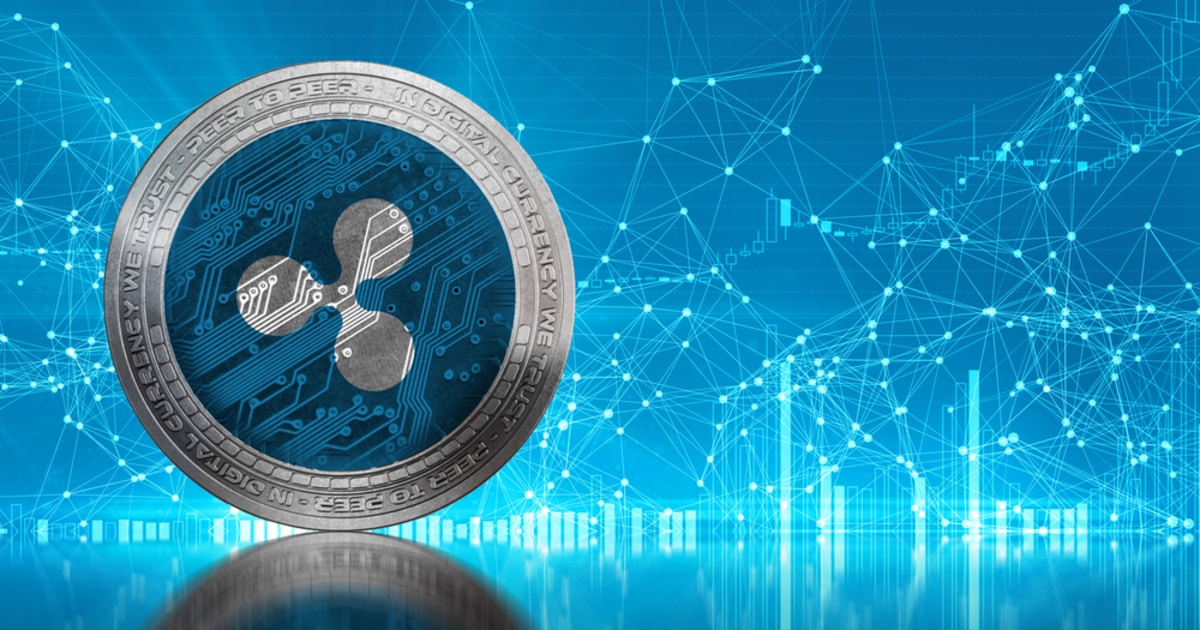 Ripple says XRP Can Be Used as a Bridge Currency for CBDCs, Will This Push XRP Higher?
Ripple released a new whitepaper and pointed out that XRP can be used as a bridge currency for CBDCs.
The blockchain company Ripple announced that it would pilot a private version of XRP Ledger that is specifically designed for central banks earlier this month.
Ripple wrote in its whitepaper dubbed "The Future of CDBC" that interoperability, public and private partnerships, and neutral bridge currencies are the three keys to overcoming every CBDC(Central Bank Digital Currency).
Ripple wrote to ensure that CBDC can transfer value in a "frictionless" and "cost-effective" way:
A neutral bridge asset can support healthy, alternative liquidity markets that will allow for frictionless and cost-effective value movement between various CBDCs in real-time.
The report thought the digital asset XRP can act as a bridge between different central banks' digital currencies as it can be used to quickly and effectively and said:
"One example of a neutral bridge is the digital asset XRP, which can be used to bridge two different currencies quickly and efficiently."
Ripple (XRP) Price Analysis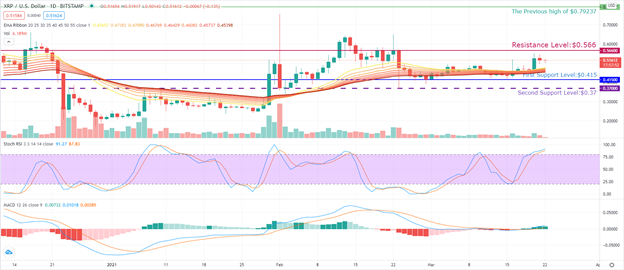 Source: XRP/USD Daily via TradingView
Ripple (XRP), as the seventh-largest digital asset, has a market cap of $23,608,766,357. After a small retracement, is trading $0.5159 at the time of writing.
Since the beginning of March, the Ripple(XRP) market has been consolidating within the price range of $0.415 to $0.5. However, the long green candlestick on March 20 indicates that the price of XRP has broken through the key level of $0.50.
The rising moving average ribbon and MACD indicator highlight the bullish market. The blue MACD line surpassed the yellow Signal line and is above the signal line. Both lines are above the zero axes, which indicate that XRP is currently rallying bullishly.
On March 20, after the bulls pushed the price to $0.55, they encountered resistance from the seller and failed to push the price higher the following day. If market bulls can successfully break through $0.55, $0.566 is the next resistance level. If XRP successfully surges above $0.566, the bulls will set the next target at $0.70.
Despite the surge in XRP, the Stochastic Relative Strength Index entered the overbought zone. The blue K-line is constantly approaching the yellow D-line, which may form a bearish crossover in the overbought zone, thereby indicating that XRP may be oversold. As more sellers enter the market, XRP's price may fall and a downward trend may begin.
As selling pressure increases, XRP's price may fall to $0.50, and short positions may be profitable. The 20-day Exponential Moving Average of $0.476 is an important support level. If XRP/USD falls below this level, then the next support level will be $0.415. If it falls below $0.415, the short-term bullish momentum of XRP will be invalidated and the trend will be reversed. The short side will suppress the price at the support level of $0.37.
Image source: Shutterstock
https://image.blockchain.news:443/features/05C3392CD34E2AA4C4F8E68BBC4F54C75C78A6A9B98C0986EB883FFA12779864.jpg
0
1920
saujan
https://www.fifthwave.news/wp-content/uploads/2021/01/Logo.png
saujan
2021-03-22 09:17:00
2021-03-22 09:17:00
Ripple says XRP Can Be Used as a Bridge Currency for CBDCs, Will This Push XRP Higher?