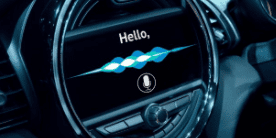 BlackBerry stock falls as revenue comes up short, adjusted or not
BlackBerry Ltd. revenue failed to live up to expectations Tuesday, whether adjusted or not, and shares fell in the extended session.
BlackBerry
BB,
+1.52%
on Tuesday afternoon reported fourth-quarter losses of $315 million, or 56 cents a share, after posting losses of 7 cents a share a year ago. After adjusting the changed value of convertible debt added more than $250 million to the bottom line, the Canadian tech company reported earnings of 3 cents a share, down from adjusted earnings of 9 cents a share a year ago.
Revenue for the fourth quarter was $210 million, down from $282 million in the same period last year. Analysts on average expected adjusted earnings of 3 cents a share on sales of $245 million.
BlackBerry reported adjusted revenue of $215 million, part of a practice of reporting non-GAAP revenue, or revenue that does not conform with Generally Accepted Accounting Principles, that started in 2019. The company recently told the Securities and Exchange Commission it would halt that practice, which MarketWatch detailed beginning in 2019 as being against SEC rules, in the current fiscal year.
While BlackBerry is widely known for its early mobile phones that included physical keyboards, it has transitioned into a software company focused on cybersecurity and automotive markets. The company's stock became popular late last year, pushing prices to a five-year high, a dynamic that was largely responsible for the fair-value adjustment that boosted adjusted earnings.
For BlackBerry's full fiscal year of 2020, which concluded at the end of February, the company reported adjusted earnings of 18 cents a share on GAAP sales of $893 million. BlackBerry did not provide a 2021 forecast in its announcement, but is expected to provide projections in a conference call scheduled to begin at 5:30 p.m. Eastern.
Shares fell 4% in after-hours trading Tuesday immediately following the release of the results, after closing the regular session with a 1.5% gain at $9.34. The stock has more than doubled in the past year, gaining 138.9% as the S&P 500 index
SPX,
-0.32%
has increased 51.2%.
https://images.mktw.net/im-266596/social
0
1920
saujan
https://www.fifthwave.news/wp-content/uploads/2021/01/Logo.png
saujan
2021-03-30 21:27:00
2021-03-30 21:27:00
BlackBerry stock falls as revenue comes up short, adjusted or not