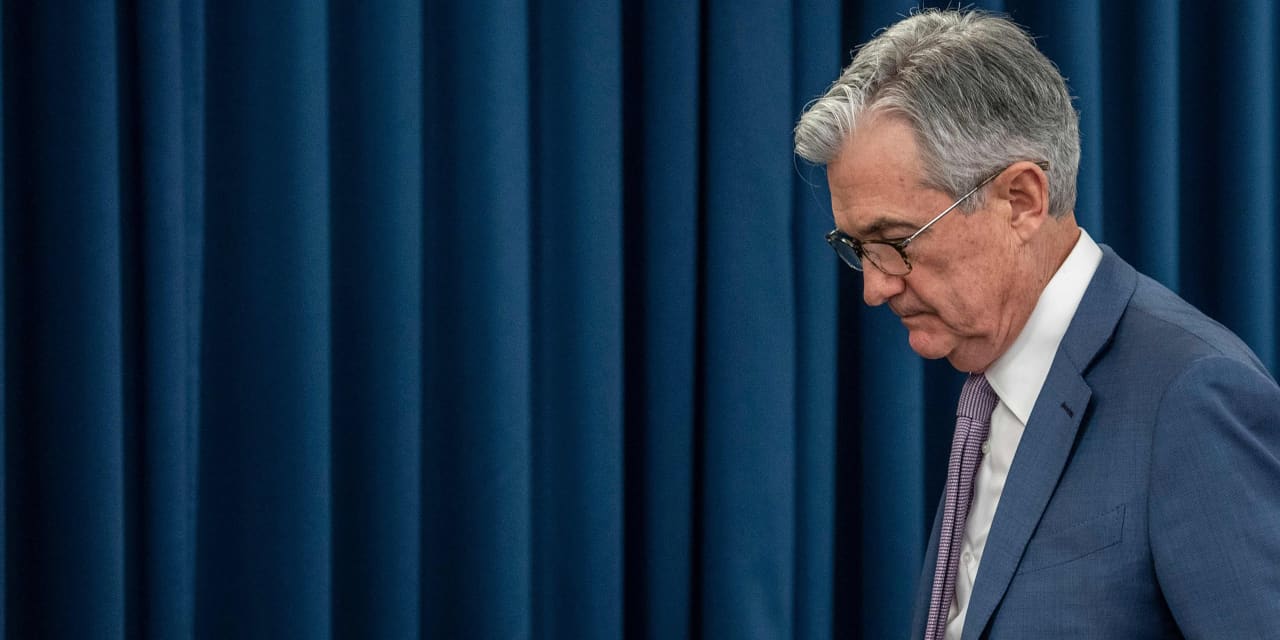 Tech shares lead S&P 500 to record high Thursday after Powell asserts dovish tone
The S&P 500 index carved out an intraday record early Thursday, with technology shares leading gains, as investors digested comments on the global economy from Federal Reserve Chairman Jerome Powell.
A weekly report on those seeking unemployment benefits in the U.S. showed an unexpected rise, perhaps reinforcing the Fed's concern about the labor market's recovery from COVID.
How are stock benchmarks faring?
The Dow Jones Industrial Average
DJIA,
+0.03%
rose 3 points, or less than 0.1%, to trade at around 33,450.
The S&P 500
SPX,
+0.36%
was gaining 14 points to reach about 4,094, a gain of 0.3%, after earlier establishing an intraday record at 4,096.45.
The Nasdaq Composite Index
COMP,
+0.92%
advanced 124 points, or 0.9%, at 13,812.
On Wednesday, the S&P 500 added 6.01 points, or 0.2%, enough to finish at a record 4,079.95, its 18th of the year. The Dow rose 16.02 points, or 0.1%, to close at 33,446.26, its second-highest finish ever, the Nasdaq Composite shed 9.54 points, or 0.1%, ending at 13,688.84, while booking a second day in a row of losses. The small-cap oriented Russell 2000 index
RUT,
+0.61%
slumped 1.6% to close at 2,223.05.
What's driving the market?
Fed Chairman Powell repeated his expectation that a rise in inflation this year would be temporary at  a webinar on the global economic outlook hosted by the International Monetary Fund. His comments come a day after minutes from the Fed's March policy meeting were released showing concerns about the recovery in the job market.
Weak labor-market data failed to undermine the market's bullish bias even though, U.S. weekly jobless benefit claims showing a rise of 16,000 to 744,000, above expectations for 694,000 from economists surveyed by Dow Jones. Claims were raised to 728,000 in the prior week from the prior estimate of 719,000.
"So while states balance the vaccine rollout with stop and start reopening plans, the labor market continues to feel the heat. But the disappointing read actually puts some firepower behind the Fed's accommodative stance,"wrote Mike Loewengart, managing director investment strategy at E-Trade Financial.
Continuing claims dropped 16,000 to 3.73 million, marking the lowest level for that measure of employment since March 21, 2020.
"We expect the market to keep moving slowly higher on good economic news, but since most of that news is already priced in, a big move higher (or a big move lower) will only happen if there is a significant bump to the upside (or unexpected drop to the downside) in a major piece of economic news, such as the quarterly GDP number that will be released at the end of April," wrote Chris Zaccarelli, Chief Investment Officer for Independent Advisor Alliance in a note after the jobless claims data.
The Fed in its minutes on Wednesday also communicated that it will be "some time" before any tapering of the central bank's monthly asset-purchase program, or before benchmark interest rates are lifted from current levels near 0%. That sentiment may be enough to keep markets aloft—at least for the moment.
Which companies are in focus?
How are other assets faring?
https://images.mktw.net/im-313898/social
0
1920
saujan
https://www.fifthwave.news/wp-content/uploads/2021/01/Logo.png
saujan
2021-04-08 17:17:00
2021-04-08 17:17:00
Tech shares lead S&P 500 to record high Thursday after Powell asserts dovish tone